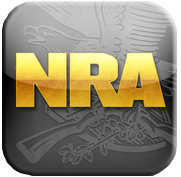 It's not long ago that I jumped from the land of Microsoft and into the world of Macs. My desktop here at work is now a Mac and my BlackBerry has turned into an iPhone. Like most of those who've made a similar journey, I soon found myself researching and downloading the latest apps. (For the unindoctrinated, apps are applications that run on your smartphones or tablets.) Little did I know that such research would produce an app by the NRA.
Divided into five separate categories, the app provides the latest stories by NRANews, NRA-ILA and those of us here at NRAblog. There's also video, the ability to find NRA related activities in your area, links to NRA social media properties and more.
If this sounds like something you'd like to add to your arsenal, then head on over to the iTunes store and add the NRA app to your collection. But you need to act fast … the app is free free for a limited time. So head on over to the Apple Store and follow more of what the National Rifle Association has to offer.